Materials Science (Master's program)
Overview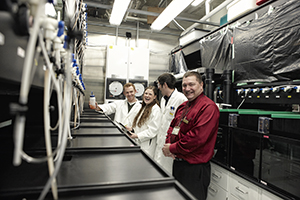 Materials Science is a broad multidisciplinary area of science that involves the understanding and prediction of the properties of matter. The program is offered in collaboration with Trent University.
The Master of Science (MSc) program in Materials Science is offered jointly by Ontario Tech University and Trent University. Materials Science is a broad multi-disciplinary area of science that lies at the intersection of physics and chemistry and includes many sub-fields including nanotechnology, electronic materials, surface science, biomaterials and materials characterization.
An important goal of the Materials Science program is to advance the understanding and prediction of the properties of matter. Such understanding facilitates the design of new materials with particular properties. The development of experimental and theoretical predictive tools applicable to size scales ranging from the molecular to the macroscopic levels is an integral component of the MSc in Materials Science program. The program provides both a broad and integrated overview of materials science and the opportunity for in-depth study of a particular problem emphasizing either theory or experimentation under the guidance of a research supervisor and a multi-disciplinary team of faculty.
Admissions
Admissions
Hold an honours BSc degree in chemistry, physics or engineering, or hold equivalent qualifications as judged by the admissions committee. This committee is made up of the graduate program directors and one faculty member from each of the two universities (Trent University and Ontario Tech University).
Minimum overall academic standing of a B (GPA: 3.0 on a 4.3 scale or 73 to 76 per cent), with a minimum B average in the last two full-time years (four semesters) of undergraduate work or equivalent.
Required supporting documents:
Please see the checklist of required documents for a list of supporting documentation that must be submitted with your application.
Additional requirements:
Admission depends on the availability of a research supervisor. It is recommended that applicants contact a potential supervisor before formally applying. 
In their statement of academic intent, applicants should include the type(s) of course(s) they feel they are suitable to teach as teaching assistants.
Required test scores for English language proficiency:
See English language proficiency for the minimum required test scores for this program.
Please see application deadlines for specific dates. Note that the application deadlines listed are for both the online application and all supporting documentation.
Applications for admission to all graduate studies programs are submitted online. There are five steps you must go through to complete the application process. See application process and requirements for step-by-step instructions.
---
Many of our graduate programs are extremely competitive; the number of qualified applicants normally exceeds the number of seats available for each intake. Satisfaction of minimum entry requirements does not ensure admission.
Research areas
Biomaterials and computational nanobiophysics
Carbon-based materials
Corrosion science and oxidation technologies and applications
Computer simulation in nanoscience and renewable energy
Hybrid organic-inorganic materials
Materials for photovoltaics and other energy-related applications
Materials growth and characterization
Nucleic acid-based materials
Proton exchange membrane fuel cell materials and processes
Reinforced composites with superior mechanical properties
Supercritical fluids and materials
Learn more about the research areas within this program and find research experts by visiting the faculty's website and the university's Expert Centre.
Additional information
For program requirements, including required number of credits for completion, program maps and course descriptions, please see
the academic calendar and course catalogue of
Loading...
.
Courses are subject to change without notice.
Internal awards and funding
Applicants to research-based graduate programs who are studying full-time are automatically considered for some types of funding at the time of admission.
Types of funding that do not require an application:
Entrance scholarships
Minimum funding packages
Teaching assistantships, research assistantships and graduate research assistantships
For more details on the above funding opportunities, see graduate student awards and funding.
Please note: Part-time students are not eligible for the above funding opportunities.
External awards and funding
Graduate program applicants are encouraged to apply for external awards to help finance their education. The application process differs for each competition, so review the information carefully to determine where and when you must apply. Please note: The majority of these awards are for domestic or permanent residents only.
Tuition fees for graduate programs are charged on a flat-fee or fee-per-credit basis and vary by program and student status.
For current, specific fees and details on flat-fee versus fee-per-credit programs, please see tuition and fees.