Forensic Psychology (Master's program)
Overview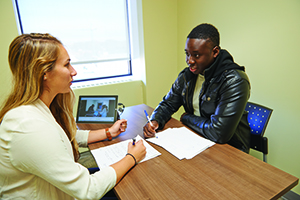 The Master of Science program in Forensic Psychology combines disciplinary and specialized study in the field, study in research methods and statistics, and applied learning experiences to prepare students to work in a variety of settings.
The Master of Science (MSc) in Forensic Psychology combines disciplinary and specialized study in the field, study in research methods and statistics, and applied learning experiences to prepare students to work in a variety of settings. Specifically, the program will prepare students for careers related to the following:
Administration in provincial and federal programs.
Advertising and marketing.
Behavioural science and statistical research in government organizations.
Design and evaluation of community programs.
Research and/or teaching in college and university settings.
Research and practice in behavioural science crime units within law enforcement.
Research in mental health institutions, hospital settings, justice-related institutes, correctional facilities, pharmaceutical industry and educational entertainment industry.
Trial consulting.
The program will also allow professionals (e.g., law enforcement officials) to advance in their current fields.
Admissions
Admissions
MASc in Forensic Psychology
 In addition to the general academic requirements for graduate studies, all applicants must meet the following program-specific academic requirements:
Hold a four-year undergraduate degree or equivalent in Psychology or a related field (e.g., Neuroscience, Computer Science,        Biology, Criminology) at a recognized institution. Students with both Bachelor of Arts and Bachelor of Science degrees are encouraged to apply.

Overall academic standing of at least a B (GPA: 3.0 on a 4.3 scale or 73 to 76 per cent), with a minimum academic standing of B+ (GPA: 3.3 on a 4.3 scale or 77 to 79 per cent) in the final two full-time years (four terms) of undergraduate study, including elective courses.
Note:
Completion of an honours thesis, or comparable research experience, is highly preferred but not required.
Applicants with unrelated backgrounds may be admitted as special cases. However, applicants without sufficient psychology background or those who do not meet the admission requirements of the program may not be prepared to perform successfully in the program courses. In this case, they may be required to take additional courses or admitted as qualifying students. Please see the

 

Graduate Academic Calendar and Course Catalogue for additional details.

Completion of an undergraduate statistics course is highly recommended, but not required.
Required supporting documents:
A curriculum vitae (CV) including education, employment, teaching and research experience, and publications (if any).
A third letter of reference. Academic referees are preferred; however, non-academic references will be considered.
A two- to three-page statement of academic intent (note that this is longer than the general requirements). The statement may describe previous research experience (e.g., thesis work, other research projects), industry or community experiences, general career aspirations, specific research interests and any experience relevant to these interests. If an applicant has already contacted a potential thesis supervisor (which is highly advised), that should be made known within the statement.
A substantive writing sample. A sample of the applicant's thesis is preferred; an assignment or published work (with the applicant as first author) will suffice if a thesis has not been completed.
Applicants must also submit the required documents outlined in the checklist of required documents.
Additional supporting documents:
 General Graduate Record Examination (GRE) scores are encouraged but not required. There is no specified minimum score; however, scores will be factored into admission decisions.

Psychology GRE scores for those applicants who have not completed a Psychology (undergraduate or graduate) degree within the last five years are encouraged but not required. There is no specified minimum score. All other applicants may still choose to have their Psychology GRE scores forwarded to the university, and the graduate committee will factor the scores into admissions decisions. 
The GRE® Subject Test date varies by location. Applicants should submit General GRE test scores prior to the deadline. Applicants should register early for the Psychology Subject Test. For an updated list of test centers, please see the Paper-delivered Test Center List. Institution code: 7178.  
Required test scores for English language proficiency:
See English language proficiency for the minimum required test scores for this program.
Please see application deadlines for specific dates. Note that the application deadlines listed are for both the online application and all supporting documentation.
Applications for admission to all graduate studies programs are submitted online. There are five steps you must go through to complete the application process. See application process and requirements for step-by-step instructions.
---
Many of our graduate programs are extremely competitive; the number of qualified applicants normally exceeds the number of seats available for each intake. Satisfaction of minimum entry requirements does not ensure admission.
Research areas
Children and the law
Detection of deception
Evidence-based policing
Eyewitness memory
Forensic neuroscience
Geographic profiling
Interrogations and confessions
Investigative interviewing
Psychopathy
Sexual Violence
Wrongful conviction
Learn more about the research areas within this program and find research experts by visiting the  faculty's website  and  the university's Expert Centre .
Additional information
For program requirements, including required number of credits for completion, program maps and course descriptions, please see
the academic calendar and course catalogue of
Loading...
.
Courses are subject to change without notice.
Internal awards and funding
Applicants to research-based graduate programs who are studying full-time are automatically considered for some types of funding at the time of admission.
Types of funding that do not require an application:
Entrance scholarships
Minimum funding packages
Teaching assistantships, research assistantships and graduate research assistantships
For more details on the above funding opportunities, see graduate student awards and funding.
Please note: Part-time students are not eligible for the above funding opportunities.
External awards and funding
Graduate program applicants are encouraged to apply for external awards to help finance their education. The application process differs for each competition, so review the information carefully to determine where and when you must apply. Please note: The majority of these awards are for domestic or permanent residents only.
Tuition fees for graduate programs are charged on a flat-fee or fee-per-credit basis and vary by program and student status.
For current, specific fees and details on flat-fee versus fee-per-credit programs, please see tuition and fees.