Psychology (Bachelor of Science)
Overview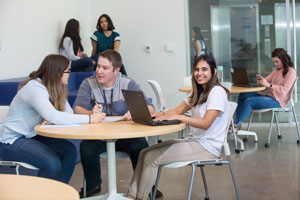 Prepare yourself for a career in the science of psychology, studying biology, chemistry, physics and math, and foundational psychology courses.
Does the chronic use of drugs lead to permanent changes in the brain? How do modern pharmaceuticals help treat the symptoms of anxiety and depression? How do traumatic events influence a child's development?
Students enrolled in the Bachelor of Science in Psychology program will receive a core first year of natural science courses, including biology, chemistry, physics, math and psychology with their second year reserved for foundational psychology courses. Students will also be required to take a number of additional science electives in their upper years of study. This program will be of particular interest to students wishing to pursue studies in the cognitive and biological underpinnings of human behaviour.
Students will receive a solid foundation in research methods and statistics as well as highly marketable skills in a variety of tech-focused domains. The knowledge students will gain from this program will put them in a strong position for additional education or direct-to-work opportunities in areas such as medicine, health care, social services and mental health.
Two specializations are offered:
Affective Science and Mental Health 
Students will receive targeted education pertaining to the psychological and neural mechanisms underlying emotion, and the manner in which these mechanisms contribute to mental health or mental illness. 
Developmental and Psychological Science 
Students will gain in‐depth knowledge into historical and contemporary trends regarding human development, from infancy and childhood, through adolescence, and into adulthood and gerontology.
Unique to both specializations will be the intentional cross‐cutting of traditional disciplinary and methodological lines, to bring students in contact with a variety of sociological, criminological, psychological and biological perspectives. 
Admissions
Admissions
Current Ontario secondary school students must complete the Ontario Secondary School Diploma (OSSD) with six 4U or 4M credits including English (ENG4U), Advanced Functions (MHF4U), and two of Biology (SBI4U), Calculus and Vectors (MCV4U), Chemistry (SCH4U) or Physics (SPH4U).
Note: Admission is competitive. The specific average or standing required for admission varies from year to year. Students are selected by taking into consideration a wide range of criteria including school marks, distribution of subjects taken, and performance in subjects relevant to the academic program. Possession of the minimum requirements does not guarantee acceptance. Preference will be given to applicants with the best qualifications.
| | |
| --- | --- |
| Last year's cut-off | 70 per cent |
| Expected cut-off | Low 70s |
Career opportunities
Health Services Employee
Laboratory Assistant
Pharmaceutical Representative
Statistical Consultant
Experiential learning
Experiential learning opportunities will be fostered through volunteer, practicum, internship and directed lab research opportunities, each of which will give students hands-on experience in their field of interest.
A limited number of fourth-year students have the opportunity to acquire workplace skills through an immersive internship or practicum experience with a partner organization.
Sample courses

For program requirements, including required number of credits for completion, program maps and course descriptions, please see

the academic calendar and course catalogue of

Loading...

.

Courses are subject to change without notice.