Mechanical Engineering
Degree
Bachelor of Engineering (Honours)
Bachelor of Engineering and Management (Honours)

Faculty
Faculty of Engineering and Applied Science
Location
North Oshawa campus location
Start dates
September
Length
Four or five years
Program load
Full-time

OUAC code
DEC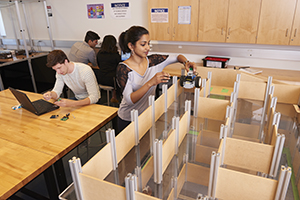 Mechanical engineering overlaps with other engineering disciplines – electrical, chemical, civil, computer and software, to name a few. It is interdisciplinary and one of the broadest engineering disciplines.
General information
The Mechanical Engineering program is one of the broadcast engineering disciplines. In this program, students will learn the principles of mechanical engineering—motion, energy, and force—and how these principles are used to design and build the world around us. Within this program, you can choose the Energy Engineering specialization or follow the comprehensive program. 
Energy Engineering 
Energy engineering is increasingly focused on the efficient and environmentally responsible use of energy systems, as well as energy security and reliability. You will specialize in all aspects of energy, from its generation to its end use, including energy conversion, storage, transportation and distribution. 
Foundation year
All Engineering students begin with a common foundation year, regardless of program of study. During the foundation year you will learn about the various Engineering programs available.
Engineering and Management
There is a need for engineers with management skills. Complement the technical studies of your Engineering program with business and management courses by pursuing the five-year Bachelor of Engineering and Management (Honours) program.
Women in Engineering
A multi-year support program to help female Engineering students explore opportunities and careers, gain experience in the workforce, make a successful transition to a career in engineering and find lifelong success in a professional engineering career. View more information about our Women in Engineering program.
Learning environment
Students have access to new, modern buildings, libraries and innovative labs, including:
ACE Climatic Wind Tunnel
Clean Energy Research Laboratory (CERL)
Energy Systems and Nuclear Science Research Centre (ERC)
Electric Machines, Microwave and Communication Systems Lab 
Ontario Power Generation (OPG) Engineering Building
Partners for the Advancement of Collaborative Engineering Education (PACE) laboratories
---
Additional information
Admission requirements
Current Ontario secondary school students must complete the Ontario Secondary School Diploma (OSSD) with six 4U or 4M credits including English (ENG4U) with a minimum average of 60 per cent, Advanced Functions (MHF4U), Calculus and Vectors (MCV4U), Chemistry (SCH4U) and Physics (SPH4U). In addition, a combined minimum 70 per cent average in prerequisite math and science courses is required, with no grade below 60 per cent.
Note: Admission is competitive. The specific average or standing required for admission varies from year to year. Students are selected by taking into consideration a wide range of criteria including school marks, distribution of subjects taken, and performance in subjects relevant to the academic program. Possession of the minimum requirements does not guarantee acceptance. Preference will be given to applicants with the best qualifications.     
---
| | |
| --- | --- |
| Last year's cut-off | 70 per cent |
| Expected cut-off | High 70s |
---
How to apply
The application process and important dates/deadlines are outlined on our admissions website:
• Ontario secondary school applicants
• Ontario secondary school graduates
• Canadian out-of-province high school applicants
• International applicants
• Mature applicants (over 21 and never attended post-secondary)
• Transfer applicants
• General Arts and Science (GAS) applicants 
• Home-schooled applicants
Program curriculum
Sample courses: 
Computer-Aided Design
Concurrent Engineering and Design
Control Systems
Dynamics
Fluid Mechanics
Heat Transfer
Kinematics and Dynamics of Machines
Mechanical Vibrations
Thermodynamic Applications
A full program map is available in the Undergraduate Academic Calendar. Courses are subject to change without notice.
Experiential learning
The Faculty of Engineering and Applied Science offers optional engineering internship and co-op work terms to provide students with the opportunity of gaining meaningful engineering experience and exploring possible careers.
Career opportunities
Control systems
Energy systems simulation and management
HVAC projects
Materials and manufacturing systems
Mechanical systems 
Power generation
Quality control and management 
Research and development of new technologies 
Robotics and automation solutions