Nursing - Collaborative
| | |
| --- | --- |
| Degree | Bachelor of Science in Nursing (Honours) |
| Faculty | Faculty of Health Sciences |
| Location | North Oshawa campus location |
| Start dates | September |
| Length | Four years |
| Program load | Full-time |
| OUAC code | DHN |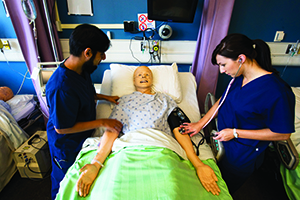 Our program prepares professional nurses who are committed to excellence and innovation in assessing and meeting the nursing needs of society. You will also learn about nursing practice and the human experience of health, illness and healing.
General information
Our program prepares nurses who are committed to excellence and innovation in assessing and meeting the nursing needs of society. You will learn about nursing practice and the human experience of health, illness and healing. 
Collaborative learning activities allow you to take an active role in your own learning. In addition, our high- tech nursing labs and simulated learning opportunities provide you with practical, hands-on experience with the latest technology at your fingertips. 
Graduates of the program are eligible to write the National Council Examination-Registered Nurse (NCLEX-RN). Individuals must comply with the registration requirements of the College of Nurses of Ontario (CNO). 
This program is offered in partnership with Durham College. 
---
Additional information
Faculty of Health Sciences website
Admission requirements
Current Ontario secondary school students must complete the Ontario Secondary School Diploma (OSSD) with six 4U or 4M credits, including English (ENG4U) with a minimum 60 per cent, Biology (SBI4U), Chemistry (SCH4U), and one of Advanced Functions (MHF4U), Calculus and Vectors (MCV4U), or Mathematics of Data Management (MDM4U). A minimum of 65 per cent in MHF4U, MCV4U or MDM4U is recommended. Admission preference will be given to students presenting Advanced Functions (MHF4U) or Calculus and Vectors (MCV4U).
Applicants will also be assessed on professional practice skills with the completion of a Computer-Based Assessment for Sampling Personal Characteristics (CASPer). CASPer is an online screening tool designed to evaluate key personal and professional characteristics for successful students and graduates. For more information, please visit our CASPer FAQs page. 
Note: Admission is competitive. The specific average or standing required for admission varies from year to year. Students are selected by taking into consideration a wide range of criteria including school marks, distribution of subjects taken, and performance in subjects relevant to the academic program. Possession of the minimum requirements does not guarantee acceptance. Preference will be given to applicants with the best qualifications.
If an applicant already has an undergraduate degree from a recognized university, quality points can be added to their admission average according to the following:
| | | | |
| --- | --- | --- | --- |
| Degree cumulative average | 60 to 69.9 per cent | 70 to 79.9 per cent | 80 per cent or above |
| Quality points | 3 per cent | 6 per cent | 9 per cent |
Applicants who present an Ontario College Diploma in Practical Nursing (or equivalent) are not eligible to apply to the Collaborative Nursing program.
---
| | |
| --- | --- |
| Last year's cut-off | N/A - Min. 80 per cent for consideration |
| Expected cut-off | N/A |
---
How to apply
The application process and important dates/deadlines are outlined on our admissions website:
• Ontario secondary school applicants
• Ontario secondary school graduates
• Canadian out-of-province high school applicants
• International applicants
• Mature applicants (over 21 and never attended post-secondary)
• Transfer applicants
• General Arts and Science (GAS) applicants
• Home-schooled applicants
Program curriculum
Courses include:
Anatomy and Physiology
Development of Self as Nurse
Health and Healing, Theory and Practice
Health Assessment
Interprofessional Health Care Teams
Microbiology for Health Sciences
Nursing Leadership and Innovation
Pathophysiology
Pharmacology for Nurses
A full program map is available in the Undergraduate Academic Calendar. Courses are subject to change without notice.
Experiential learning
With the Nursing program's strong clinical focus, you have opportunities each year to develop your nursing skills and knowledge in the finest hospitals and agencies in the region through clinical placements.
Clinical placements are a core component in each year of the Nursing program, starting from the first year of studies. Students appreciate and embrace the opportunity to apply their learning in a clinical setting. They are committed to becoming leaders in health-care delivery. They recognize the necessity and importance of working with trained professionals and their patients to enhance their knowledge and further their own skills and professional development.
Career opportunities
Registered nurse
Health administration and management
Health and clinical data analysis
Health policy and promotion